The national deputy of Libertad Avanza presented his latest editorial work, where he talked about the measures he will apply if he becomes President in 2023. He criticized Alberto Fernández and the opposition.
Javier Milei will eliminate the Ministry of Women: I will not ask for forgiveness for having a penis
National Deputy Javier Milei warned that in case he becomes President in 2023, he will take several radical measures in his government. In this way he warned that he will eliminate the Ministry of Women, Genders and Diversity, one of the mainstays of the administration of President Alberto Fernández. «I am not going to apologize for having a penis», affirmed the libertarian economist.
Javier Milei will eliminate the Ministry of Women: «I will not apologize for having a penis».
Milei's statements took place during the presentation of his book «El camino del libertario», at the Book Fair this Saturday. There he set up a panel together with the host Viviana Canosa, with whom he had a back and forth talking about several topics such as feminism, the Presidency in 2023 and the country's economy.

Single ballot, the fear of «Cambiemos» to Milei

In the meeting that started last night around 21:00, the deputy of Libertad Avanza advanced that if he is president he will eliminate the Ministry of Women, Gender and Diversity. «I don't have to feel ashamed of being a white, blond and light blue-eyed man. I will not concede anything to cultural Marxism. With this you know that the Ministry of Women loses track, because the only equality is before the law,» he assured the audience.
After the debate generated by the news that he wears a bulletproof vest in every public presentation, Milei highlighted the role played by his sister and remarked that his political growth is «supported by the youth» and denounced that they «overturned» an act in La Matanza a few weeks ago.
Regarding the next elections, the libertarian deputy assured that he is setting up a structure at national level so that the votes are not «stolen». And he dared to give a forecast for the electoral scenario 2023: «If we enter the second round, you are going to say in the conference of the future president of Argentina», he expressed.
During the presentation, there were boos for President Alberto Fernández, when Canosa recalled Milei's speech during the pandemic. In closing, he made a reflection in a soccer tone: «The cultural battle is very important but we must not neglect the political battle. The Boca fans, who today eliminated Racing, the team of that gentleman (in reference to Máximo Kirchner), may be very nice. But I realized that when I used to go to the stadium, the goals were scored by Palermo or Messi. You have to put on your shorts, your boots and go out and kick, because if not, the politicians, thieves, will take them away», he concluded.
---
Viviana Canosa defendiendo a la Libertad y acompañando a su amigo Javier Milei en la presentación de su libro
Javier Milei eliminará el Ministerio de la Mujer: «No voy a pedir perdón por tener pene»
El diputado nacional de Libertad Avanza presentó su último trabajo editorial, donde habló de las medidas que aplicará si llega a la Presidencia en 2023. Repartió críticas contra Alberto Fernández y la oposición.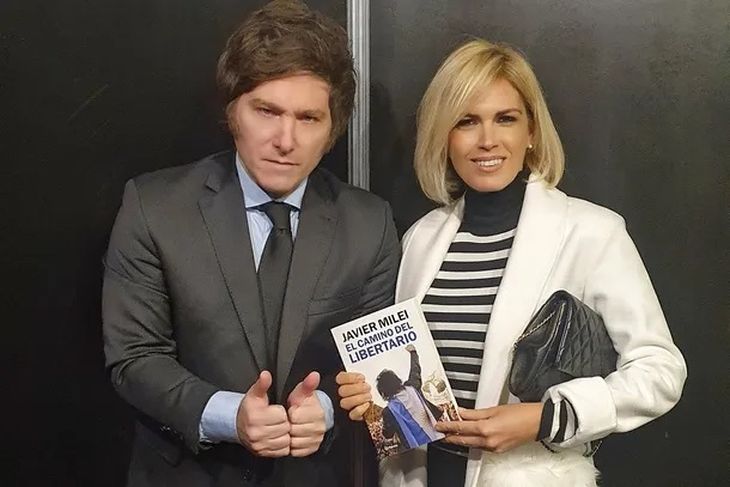 El diputado nacional Javier Milei advirtió que en el caso de llegar a la presidencia en 2023, tomará varias medidas radicales en su gobierno. De este modo avisó que eliminará el Ministerio de las Mujeres, Géneros y Diversidad, uno de los puntales de la gestión del presidente Alberto Fernández. «No voy a pedir perdón por tener pene», afirmó el economista libertario.
Las declaraciones de Milei tuvieron lugar durante la presentación de su libro "El camino del libertario", en la Feria del Libro este sábado. Allí armó un panel junto a la conductora Viviana Canosa, con quien mantuvo un ida y vuelta hablando de varios temas como feminismo, la Presidencia en 2023 y la economía del país.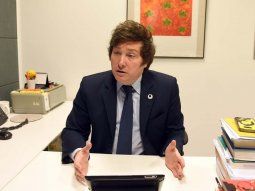 En el encuentro que arrancó anoche cerca de las 21, el diputado de Libertad Avanza adelantó que si es presidente eliminará el Ministerio de las Mujeres, Género y Diversidad. «No tengo por qué sentir vergüenza de ser un hombre blanco, rubio y de ojos celestes. No le voy a conceder nada al marxismo cultural. Con esto saben que el Ministerio de la Mujer pierde pista, porque la única igualdad es ante la ley«, aseguró ante el auditorio.
Tras el debate que se generó al conocerse que usa chaleco antibalas en cada presentación pública, Milei destacó el rol que cumple su hermana y remarcó que su crecimiento político está "respaldado en la juventud" y denunció que le «voltearon» un acto en La Matanza hace pocas semanas.
Sobre las próximas elecciones, el diputado libertario aseguró que está armando una estructura a nivel nacional para que no le «roben» los votos. Y se animó a dar un pronóstico para el escenario electoral 2023: «Si entramos en la segunda vuelta, ustedes van a decir en la conferencia del futuro presidente de la Argentina», expresó.
Durante la presentación, hubo abucheos para el presidente Alberto Fernández, cuando Canosa recordó la irrupción de Milei durante la pandemia. En el cierre, hizo una reflexión en tono futbolero: «La batalla cultural es importantísima pero no hay que descuidar la batalla política. Será muy linda la hinchada de Boca, que hoy eliminó a Racing, el equipo de ese señor (en referencia a Máximo Kirchner). Pero me di cuenta que cuando yo iba a la cancha, los goles los hacía Palermo o Messi. Te tenés que poner los cortos, los botines y salir a patear, porque si no los políticos de porquería, ladrones, se los van a llevar puesto», concluyó.